What are the benefits?
Website creation should be simple, without all the jargon and hassle, and should be flexible enough to grow with your business without having to start again.
Mawaccess takes the stress and frustration out of setting up your website. We've already done most of it for you. Your job should be adding and editing the content, not worrying how to upload, install or setup your website.

We setup the hosting on our servers, install mawaccess, then point your domain to our servers. All you have to do is upload your logo, choose your theme (you can have a bespoke* one designed for you, additional fees apply), add your content and your website is ready to go. You can be up and running in just a few hours.

All the functions your need to maintain your website can be found in your dashboard.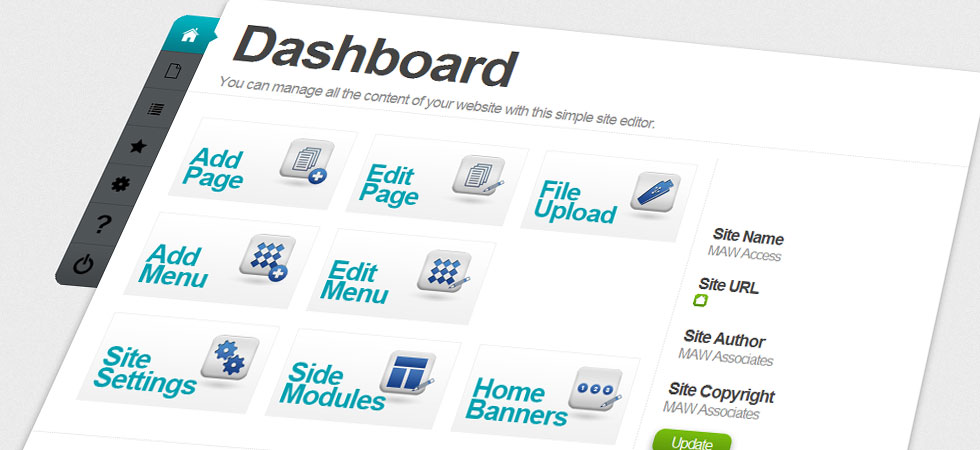 Easy Content Creation
You can create and tweak the content of your website to your heart's content with our wysiwyg editor, add in your page keywords and descriptions for the search engines and give the page a nice search engine friendly URL.

Menu Control
Using our drag and drop function you can easily create your websites menu in minutes. Reorder the menu and even create drop down menus by simply draging and dropping the menu items into position.

Rotating Banner Module
All mawaccess websites come with the rotating banner module as standard. Our standard templates feature this module on the home page of your website. You can add as many banners as you like and they will scroll through one at a time. Add a strap line and a link to more content, you can even add a background image.

Many more features...
Mawaccess has many more features and can be extended to function how you need.

Please contact us for more details or to discuss your requirements.
---
Why should I use maw
access

instead of one of the free websites available?

The free websites all have their limits, be it functionality, look and feel or ease of use. You could spend hours tweaking them to get it to work how you want, once you've worked out how the system works, and the templates available may not show off your business to the best of its ability.

Mawaccess has been designed and developed to provide your business with a professional website, that is quick and easy to maintain, that does not cost a fortune to setup and will grow with your business. It can be customised to suit your needs giving you greater functionality as and when you need it.

All the important setup has already been done, so you can focus on telling your customers about your products or services.

There are helpful popup hints as you navigate around the system in case you need help or you can contact support if you get stuck. Unlike the free systems there is someone here to help, you are not alone.

We have a library of modules that can add extra functionality to your website including a gallery*, news items* and even e-commerce* if you want to sell items via your website.
*Additional costs may apply.

If you need a specific function for your website, this can be built for you and easily installed into your existing website without the need to start all over again or move to another platform. Please contact us to talk through your ideas, development costs will apply.